Welcome to...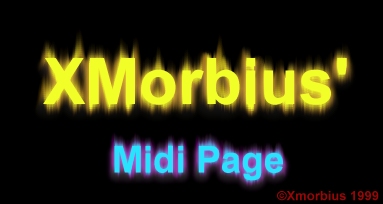 ---
Hello there, and Welcome to my Midi Collection! I currently have over 200 files up on this site, and I have more to come. To view my Midi Collection, simply click on the link Below. Click on the appropiate link below to see my links section. Scroll down to see my recent news section. If you have trouble with this site, or some suggestions, please e-mail me at XMorbius@gmail.com all comments appreciated!
---
You are number:


FastCounter by LinkExchange

To visit! Thanks!
Recent News:
2-09-00: Hey, quick update: My computer is busted (floppy drive failure, ugh) and I cant update until further notice. Shouldnt be much of a change, but hey ;-)

12-18-99: Hello! Long time no see eh? Heh, well Ive been working on cleaning up the sites HTML coding this time around and im playing with the idea of giving the site a new look, although its not too likely. I've updated the links section a bit, it turns out one of the links I thought was dead is actually back, but at a different URL, so Ive redirected that accordingly. And Ive added completely news links as well. Midi-wise, Ive added the Songs "Black Balloon" by the Goo Goo Dolls, "Blue" by Effiel 65, "Find your way" from the Final Fantasy 8 game (very good game!) and finally, the popular song, "Mambo No. 5" by Lou Bega. Cya!

09-26-99: Just under 2 months between updates... again! Man, anyway, Ive kinda re-vamped the site a little, Ive re-done the about me page to be more accurate (also using stuff I learned in my HTML class) and Ive added the Neon Genesis Evangelion Opening theme (aka "Cruel Angels Thesis"). And 2 files from the Playstation Game "Lunar: Silver Star Story Complete". The first is the opening theme, the second is Luna's Boat song. L:SSSC is a pretty cool game, and I suggest any RPG or Anime fan check it out. Also, there has been, for the first time, a removal from the page, I put up the song "To make you feel my love" from the movie hope floats by request, well, this page is my or my familys taste, not just whatever files I can find. Hence, I have taken the file off. Next update I will update the links page, which seems to have many broken links.

07-27-99: Well... Im gonna just give up tring to update on a schedule at all. I will update, but when and how long in between I dunno. Anyway, this site has been getting record hits lately, I got about 75 hits a week for the last 2 weeks. A record for this site, and any site I have ever made. Please keep on hitting the page, and I'll keep the midi files coming! This update, I got the following songs from Rod Stewart: Forever Young, Have I told you lately, and Motown song (2 versions!). Also, I have gotten Listen to your heart by Roxette, and Where do you go by No Mercy. To any of you video game fans out there, try the sega dreamcast, its not for sale yet, but lots of places carry demo units. Anyway, cya!

06-09-99: Im pathetic... more than 2 months between updates. Well, anyway, this time I have what I consider to be a fairly large update. I have made a new title image, which has lightsabers since there is the new Star Wars movie Star Wars: Episode 1, the Phantom Menace. The new midis are: "Believe" and "Strong Enough" by Cher, "High" by Lighthouse family, "Holding out for a hero" by Bonnie Tylor (also used in short circuit 2), "I'll never get over you getting over me", and, by request "To make you feel my love" from the movie "Hope Floats". Now that its summer I'll be out of school and, hence, should be able to update much more often. I am trying to find some MIDI files of some of the newer songs being released, and techno midis. If anyone knows where I can find some, e-mail me please.
---